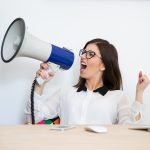 At least four times a week for the past several months I've had phone calls from Robogal.
"Hello, it's Linda," she begins, in her unvarying, always perfectly inflected voice. Not tremulous or saccharine; not overbold or tentative; not gruff or timid; not hesitant or strident; not cheerless or giddy; not glum or lighthearted; not solemn or mirthful, but easy, tranquil, matter of fact. Just Linda, calling to help out.
Linda is obviously much too busy to call me personally, so she has thoughtfully recorded her perfectly inflected voice to let me experience the thrill of its perfection every time she calls. [more]
Let's get serious. For four years I've been commenting on a range of behaviors, most of them verbal outbursts, that everyone seems to agree were offensive. These have included insults, put-downs, verbal wounds, snubs, slights, and other sorts of humiliations; disdainful, derisive, scornful, and contemptuous slurs; disparaging, discrediting, disrespectful, belittling, and derogatory snubs; jibes, affronts, barbs, contumely, rudeness, and outright insolent indignities.
But why? What makes them offensive? [more]
Several hours ago as I write, the Supreme Court knocked out the Scandalous Clause in the Lanham Act, the federal trademark statute, as predicted here last January, though by a smaller margin than I expected, and with a loophole that could but is unlikely to be exploited, at least not soon. The vote in the case, Iancu v. Brunetti, was 6–3. [more]
It seems I overstepped nineteen months ago in claiming that in a unanimous ruling involving disparaging trademarks, "the Supreme Court, presumably once and for all, has green lighted offensive speech."
In Matal v. Tam, you may recall, the Court struck down a law that banned registration of trademarks that disparage people, institutions, beliefs, or national symbols. [more]